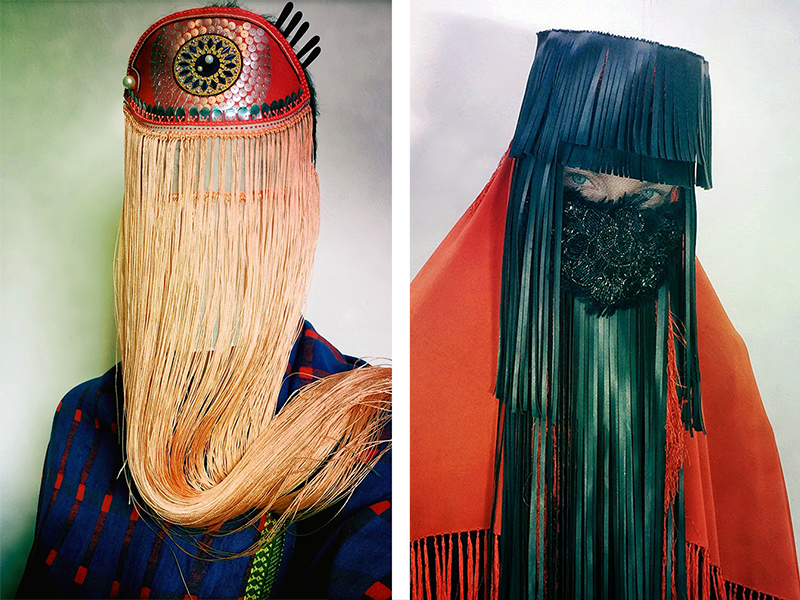 Magnhild Kennedy, mostly known as Damselfrau, is a London-based and Trondheim-born artist, that makes handcrafted masks and shares them on an Instagram profile currently gaining a cult following. That's where I first came across the artist and even joined the followers' army. Simultaneously described as baroque and post-apocalyptic, at times cross-cultural folklore or even occult and always – mystical and bewitching…. Her masks are simply visually arresting and genre-defying. Here's a bit of a backstory on the artist's odds and ends.
Training the eye
Magnhild grew up in a family of artists – her mother was an illustrator and father a sculptor. And being raised in an environment with many artists and art material laying around everywhere has helped her to train the artistic eye from the early days. However, she never really got a formal training or education relevant to design or mask-making. Instead, she learnt sewing and beading techniques from books and YouTube. 
Going all out on a night out
The author of bewitching masks moved from Oslo to London in 2007 and began experimenting with design and costume-making while working at a vintage shop. There, behind the counter, she'd sew her own costumes and embellished masks for nights out. Being surrounded by vintage garments has greatly inspired and impacted her early work. Quite admirable: she wouldn't stress over what to fear for a club, she'd just go out with a handmade costume.

It's not about the masks
I've read a few of Damselfrau's interviews and what caught my eye is that she's not particularly interested in masks as a category. For her, it's more about the materials and organising them in a tight area, in a way that it communicates something. Mask is more like a place where different elements come together. Damselfrau tries to steer clear of making any concrete conceptual decisions and leaves it up for the audience to figure and interpret what each piece communicates.
The mask-making
The artist's creative process is always intuitional, she tries to think as little as possible and goes by instinct. Meaning, there's no sketching or drawing: she just sculpts and lets the materials lead the way. When making these pieces, the artist goes into a meditative state and is always surprised by the final result herself. But the process always starts from the material that she's interested at the time. She searches for fabrics everywhere she goes and it can be anything. From a ripped piece from an antique clothing or cheap plastic trinkets from a second-hand shop.
The masks that Kennedy makes are crafted using a variety of materials: from antique silk and tassels to beadwork, lace or scruffy tea towels. To finish a piece, it can take anywhere from a day to a really long time until she finds the right material to fill the 'space' with. When finished, each of the masks, get a name and the project is completed when posted online.
Final word
Seductive and eye-catching – Damselfrau's work is unique and can easily fall into art, fashion or costume design category. Her work does evoke a range of references, but it never abides by any particular style or genre. In fact, the artists consider her work not as masks, but as characters who she gets to embody every time she takes a picture before posting it on her profile.
Check out the artist's website.
All images courtesy of the artist.